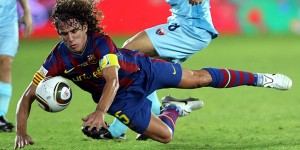 Captain Carles Puyol Barcelona's players (34) will be out for about eight weeks after the match against Benfica on Tuesday night dislocate elbow left arm.
Experienced defender was injured in the 76th 2nd minute duel round Champions League. He immediately rushed to the Lisbon hospital, where he was "set" elbow and arm immobilized. After that, he returned with the rest of the team to Barcelona. He spent the night in the hospital, and in the morning he was released.
The club has confirmed that it will be Puyol continue to treat conservative method, which means that it waits about eight weeks of downtime. Interestingly, the match against Benfica in which he celebrated a 2-0 Barcelona, ​​Puyol was the first after 15 September when he injured his knee.
New injury means that the captain of the Catalan club to miss Sunday's "El Clasico" clash against Real Madrid at the Camp Nou in the 7th Primera wagon.